2021-January-20: THANK YOU for your support and ❤️ these past months.
Best wishes to you for the upcoming year!
9x KenKen Puzzles by KrazyDad, 1-per-page, Volume 7
Each booklet contains a collection of 8 different puzzles, with the answers in the back.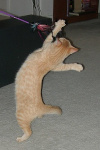 Help me pay for my cat's salsa lessons 💃 by donating with Paypal. 💓 Thank you!!
Prefer to donate by mail or Venmo?
Here's how.
Solved them all?
Click here for volume 8