January 29: Happy National Puzzle Day!! How about sharing a puzzle with a friend?
Kakuro Puzzles by KrazyDad
Volume 2

Here are a few hundred more of my free kakuro puzzles, suitable for printing. Each of my puzzles has only one unique solution.
I offer puzzles in two formats. The krazydad format, which I prefer, retains the visual symmetry of each puzzle, by showing each clue twice inside a triangle, on each side of the word.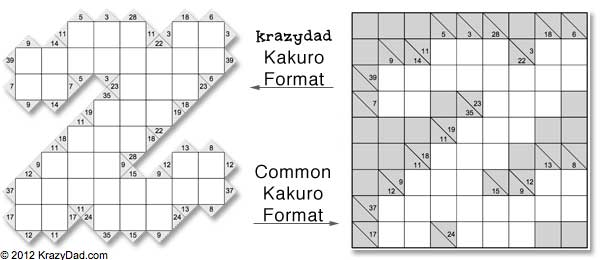 All puzzles ©2005-2014 KrazyDad.com. Feel free to reproduce the puzzles for personal, church, or school use. If you would like to purchase new puzzles for a book or periodical, contact me at
dad@krazydad.com
.