2021-January-20: THANK YOU for your support and ❤️ these past months.
Best wishes to you for the upcoming year!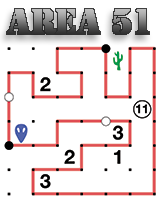 Area 51 Puzzles by KrazyDad, Volume 1
Here are hundreds of free Area 51 puzzles suitable for printing. Area 51 is a Slitherlink variant invented by David Millar. Along with Slitherlink, it also shares rules with Masyu and Corral (which I call Cow and Cactus). The instructions may seem quite complicated if you are unfamiliar with these other puzzles, but it's worth a little perseverance, as the combination of those elements makes for a uniquely satisfying solving experience.
Because there are so many clue types, I have omitted instructions from the puzzle booklets, but fear not: here is a printable page of instructions on how to solve Area 51 puzzles.
Thanks to David Millar, who invented this puzzle format!