2020-December-31: 🌛 Happy new year, everybody! 🌛
Your support and ❤️ this year has been overwhelming.
THANK YOU. Best wishes to you for the upcoming year!
8x8 Star Battle Puzzles by KrazyDad, Volume 7
Each booklet contains a collection of 24 different puzzles, with the answers in the back.
New to Star Battle? Here's a helpful tutorial on how to solve 1-star puzzles.
The books are ordered by difficulty. The higher the book number, the harder the puzzles. If you are new to Star Battle, I suggest you start with Book 1.
These booklets are in PDF format and should print from most web browsers. If you like these puzzles, also check out my other puzzles.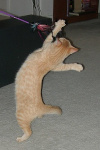 Help me pay for my cat's salsa lessons 💃 by donating with Paypal. 💓 Thank you!!
Prefer to donate by mail or Venmo?
Here's how.
Solved them all?
Click here for volume 8