Since April 2020, I have been supplying Star Battle puzzles to the
New York Times
, where they are being published as 'Two Not Touch'. You'll find many more of these delightful puzzles, in 1-Star, 2-Star and 3-Star varieties, here on my website on the
Printable Star Battle
page. I also carry
Interactive Star Battle puzzles
which work nicely on phones and tablets. Warning: These puzzles are very addictive!
Every day from Monday thru Saturday, the Times publishes an easy puzzle, and a medium-difficulty puzzle. These correspond to book numbers 1-35 in my collections (which increase in difficulty from book 1 to book 100). Those higher book numbers contain significantly more challenging puzzles.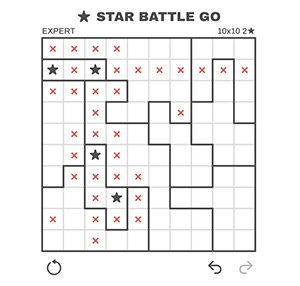 If you have an iPhone or iPad, I also recommend the app Star Battle Go which is chock-full of my puzzles. The interactive puzzles I have here on the site are free, but this app is great too (especially if you don't have a reliable internet connection), and your in-app purchases help support this website. You'll find Star Battle Go at the Apple App Store.

Times
? Here are a
whole lot more
that you can solve with a pencil! My new portable volumes of Two Not Touch / Star Battle puzzles can be found on
Amazon
. If you buy one of my books, please leave a review!
If you are new to this puzzle, you may find this introductory tutorial helpful.
If you can already solve the easiest ones, but are struggling with harder puzzles, check out my intermediate tutorial.
Here is my advanced tutorial, which covers a number of useful rules-of-thumb for solving these puzzles.
---
Think you've found an alternate solution?
Look closely at your alternate solution. Are there two stars that are diagonally adjacent? If so, it is not a valid solution (and you are not the first to make this mistake). All my puzzles have a single, valid solution. If you believe otherwise,
send me a snapshot
.
Need help solving today's puzzle? Try my handy-dandy Two Not Touch Solution page, which will walk you through the solution for today's and other recent NYT puzzles.
Enjoy the puzzles!
— Jim Bumgardner